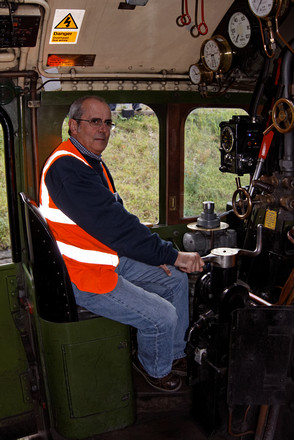 This, as they say, is me! I live in South Wales, but travel widely throughout the country to record images of steam locomotives on both preserved railways and the main line.
My photography started with a secondhand Canon FTb back in the 1970's, and I have stuck with Canon ever since. I have had a number of digital cameras over the past 10 years, and gave up film altogether after I bought a Canon EOS 300D DSLR with the EF-S 18-55mm f3.5-5.6 kit zoom lens in 2004. The oldest images on this site were taken with that camera, but by the middle of 2008 I had upgraded to an EOS 40D with 17-40mm f4L lens. I got an EOS 50D body a year later and an EOS 5D Mk III in 2012, and have also invested in some additional decent lenses, my favourite of which is my 70-200mm f2.8L IS II zoom. I also use a Canon HF200 camcorder for my video work.
Please feel free to leave your comments about any of my images individually, or sign the guestbook to record any general comments that you may have. Feedback is always welcome!